As you all know, I am a total chocoholic so I am taking the 2016 DeChox Challenge to support the British Heart Foundation
The Challenge
DECHOX is a nationwide sponsored challenge to give up chocolate for March and raise money for life saving heart research.
Any sort of cocoa is a no-no, which means chocolate bars, sweets, treats, biscuits, ice cream, cake – and even the chocolate sprinkles on your cappuccino – are off limits during March.
Last year, over 19,000 dedicated Dechoxers took on the challenge to chuck the choc, raising nearly £800,000 in the process for the BHF – an incredible amount from a nation of true chocoholics! DECHOX 2016 promises to be even bigger and better.
So, if you've ever found yourself sneaking a cheeky chocolate bar after the gym or digging into your desk drawer for an afternoon cupcake, then now's the time to test your willpower, have fun and feel good in the process.
If you want to help raise money and sponsor me, please click on this little button here: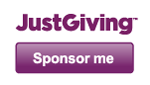 And/or if you want to take part in the challenge yourself, please see The Dechox website